Notice: In light of the ongoing Covid-19 Pandemic
MHB has suspended March Rehearsals with the season finale concert postponed indefinitely.
If current restrictions are lifted by April, rehearsals may resume and the concert would go ahead as planned but at a later date.
Thank you to our audience and musicians for your understanding during this challenging time. 
Stay safe and we look forward to a brighter future when we can make music together again.

Hope Springs a Concert
April 14, 2019 @ 3:00 pm

-

5:00 pm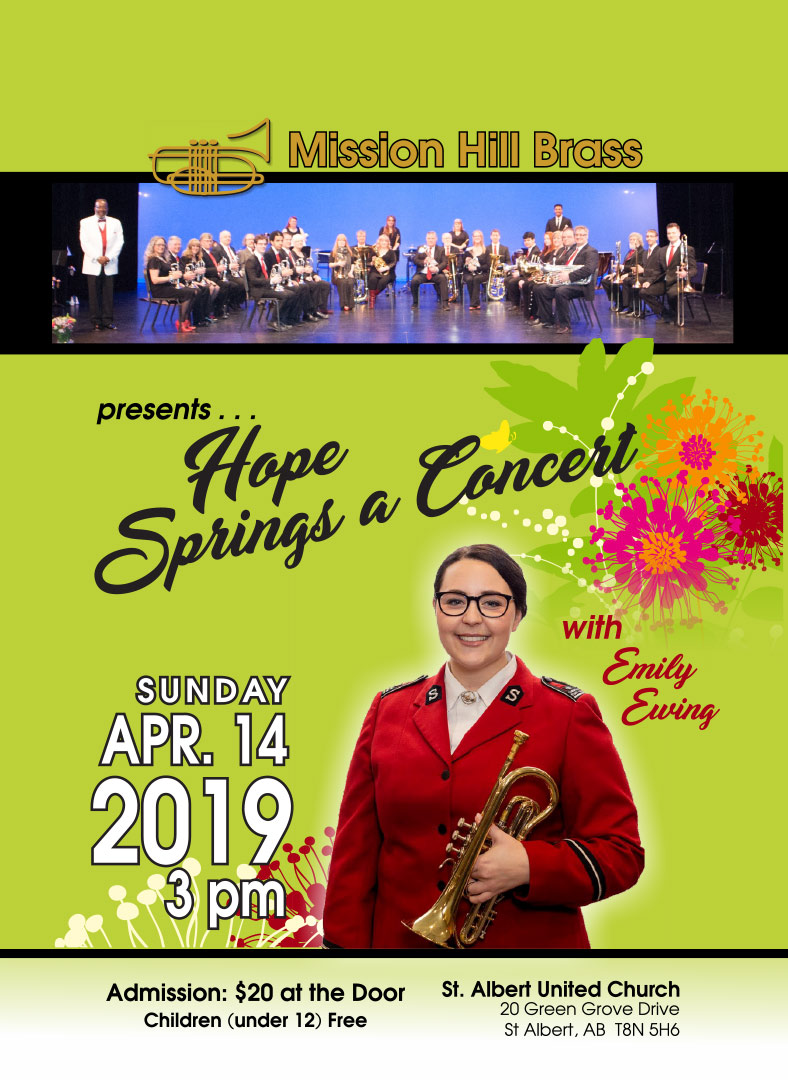 Admission: $20 at the Door| Children (under 12) free
Mission Hill Brass Presents: Hope Springs a Concert – With Emily Ewing
Mission Hill Brass is pleased to announce the final concert of its 14th season.
The concert entitled Hope Springs a Concert will be Sunday, April 14, 2019 at 3:00 pm, at the St. Albert United Church. Tickets are $20 at the door and children under 12 have free admission.
St. Albert's own 30-piece British-style brass band is pleased to welcome its first ever female instrumental soloist in cornetist Emily Ewing of the Canadian Staff Band (Toronto, ON) of the Salvation Army, Canada's premier brass band.
Emily is a second-generation member of the Canadian Staff Band (CSB) and is the third member of her family to play in the band. Her father was a percussionist for 26 years in the band and her oldest sister, Sarah, played Cornet and Flugelhorn in the band.
Emily will be playing two solo's one of which "True Salvation" was written specifically for her by her brother in law, Ruben Schmidt of Solingen Germany. This concert will be the premier performance of this solo. Emily will also be playing "Knowing You" by Canadian composer and arranger Craig Woodlands of London, Ontario. Emily played this solo with the Canadian Staff Band at the North American Staff Bands of the Salvation Army concert in Long Beach, California in 2017 and is also on the CSB "Undaunted" CD.
Also, on the program will be the cornet duet "Quicksilver" which will feature Emily and Mission Hill Brass Music Director, Daniel Skepple.
Musical selections for the band will include Clog Dance from the 1996 movie Brassed Off, Lux Aurumque a Choral number arranged for brass band by Canadian trombonist Andrew Poirier. This concert will also feature the trombone section of Mission Hill in the worship song Shine on Us composed by Michael W. Smith and arranged by retired Lt (N) Peter van der Horden of Halifax, NS. A special treat for this concert will be Richard Wagner's "Else's Procession to the Cathedral."
The March from the movie the Great Escape along with the humorous Hornpipe Humoroso will be featured in the second half and the band will finish the concert with the very dynamic Gaelforce by Peter Graham.
Doors open at 2:30pm on Sunday, April 14, 2019. Tickets will be available at the door.